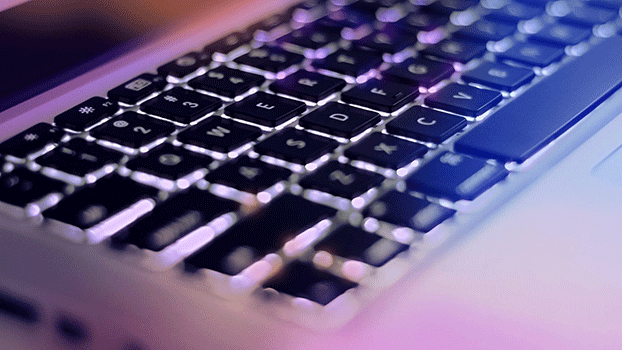 The 4 year B.Tech program enables a prospective student to acquire the knowledge,skill and attitude to succeed as an Engineer or Scientist in the industry built on Computational Technology. The department has experienced significant growth over these years with a team of faculty members who are strong in theory,systems, computer-graphics, multimedia,programming-languages,computer-security,artificial-intelligence and computer.
OUR VISION
To create a responsive, and innovative culture of Excellecnce in Computer Science and Engineerin
OUR MISSION
To provide the right quality education for the overall excellence and development of students ensuring them ready to face the competitive world in the field of computer science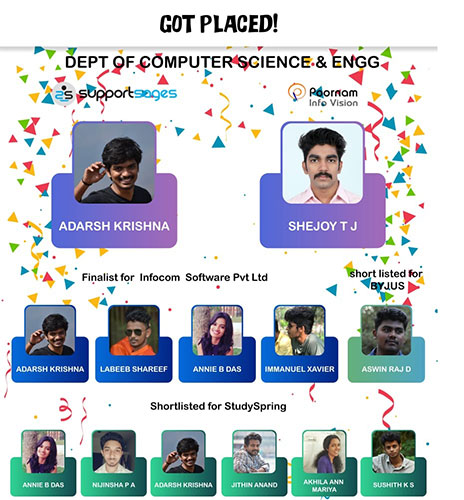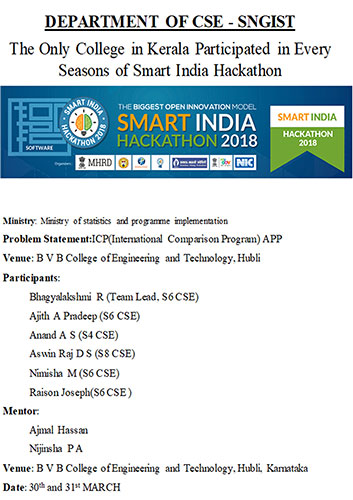 Department of Computer Science and Engineering
S6 CSE students organized a farewell meeting and lunch for S8 CSE students(2012-16 Batch) on 22nd April 2016.
As part of Women Security Mission, a self protection training programme was conducted by Janamaithri police on 30th April.
Conducted two weeks summer course on "C Programming" for the S3 CSE students (2015-19 Batch) from 20th July 2016 onwards.
I.V – S5 CSE students (2014-18 Batch) visited Infosys, Ace Components, Doordarshan and Skanray at Mysore from 11th to 15 July 2016
S5 and S7 CSE students attended an industrial interactive session handled by Mr.Ouseppachan, HR Head, TCS, Cochin.
S5 and S7 CSE students attended an aptitude training class on 21st July 2016.
18 S3 CSE (2015 -19 Batch) students completed two weeks industrial training programme from 20th to 4th June 2016.\
S7 CSE students (2013-17 Batch) completed their two weeks industrial training from 1st to 14th July 2016.
S7 CSE students did their main seminar presentations in the month of July/August on various informative and technical topics.
S5 CSE students(2014-18) attended a three day workshop on "Embedded C" handled by Blue Apple Tech. Cochin.
CSE students were participated in different competitions during Onam celebration on 8th Aug 2016.
Organized a two day " Inter College Project Presentation" on 1st and 3rd Sep 2016. 16 collages were participated.
An industrial interaction with Mr. Jayadevan, CEO and founder of e-datapath soln. for all CSE students on 1st Sep.
An industrial interaction with Mr. BinuSankar, Asst Director, Innovation Hub, EY for all CSE students on 3rd Sep FN session.
An industrial interaction with MsAlphonsaJoseph,Team Lead, ExperionTech,Infopark for all CSE students on 3rd Sep AN session.
S7 CSE students(2013-17 Batch) attended a talk on "Various job opportunities in Networking" on 24th Sep by Mr. Charles, Logic Institute of Tech.
Conducted parents meeting of S5 and S7 students on 24th Sep regarding internal examination results and feedback on teaching and learning.
Conducted a 3 day pre placement training – "Enable Programme" on 5th to 7th of Sep 2016 by ICTAK for final year students(2013-17).
An event called "Top 10" – a student industry interaction was organized by ICT academy of Kerala on Oct 17 at infopark Cochin. 5 Final year students were participated.
Asst.Professors Ms. Christy G, Ms.Raymol and Mr. Manu K Madhu were attended the inaugural ceremony of Acedemin Staff College on 9th Oct 2016 at Flora International, Nedumbassery.
Passing Out Ceremony of 2012-16 Batch was conducted on 19th Nov 2016. Ms. Arya V N awarded for Best Out going student and Mr. DhanushViswaGokul awarded for Best Overall Performer.
Raison Josepn and Tinu Varghese from S3 CSE(2015-19) participated in "Smart India Hackathon -17" awareness workshop on 19th Nov at CET, TVM.
Vega -17 conducted Techno Cultural fest on 31/03/2017 and 1/04/17. The events were LaLa Land (Exhibition), Mission Impossible, Wizard of Logos(Tech Quiz), Digital Da Vinci(Photoshop Drawing), Charlottes web, The white hats, Fault in our code, codezilla, pirates of silicon valley, Charlie and the droid factory, The matrix, Counter strike, NFS. More than 110 students participated from various collages.
S4 CSE( 2015-19 Batch) went for an Industrial Visit to V-Code , Thodupuzha on 3rd March 2017.
12 students from S5 CSE ( 2015-19 Batch) attended bridge course in C Programming from July 12 to 22 of 2017.
S7 CSE(2014-18) attended placement workshop on "Communicative English" on 04/07/2017.
S7 CSE(2014-18) attended an Industrial Interaction on 05/07/2017. Resource Person: Abraham George, Eben Telecom.
Attended 1 day aptitude class by S7 CSE(2014-18) and handled by Synergy, Palarivattom
S7 CSE(2014-18) attended a one day session on "GD and Presentation Ability" on 07/07/2017 and handled by Mr.Alexander Itty.
S7 CSE(2014-18) attended an industrial interaction on 17/07/2017. Resourse Person : Mr.John, Hatch Camp Pvt. Ltd
S7(2014-18) CSE students attended a webinar on 27/07/2017. ResoursePerson:Er.ESreedharan(Metro Man)
S3 CSE completed one week add on course on PHP from August 21 to 25, 2017 and it was handled by ICT academy , Kerala.
S5 CSE attended a session on "Role of an Engineer in Modern India" byEr.Paul George and Er.Rajan N R on September 15 2017 during Engineers Day Celebration.
S5 CSE(2015-19) under went for 3 day industrial Visit from 01/10/2017 to 03/10/2017 to Mysore and Coorg. They visited Keyns Tech., Kirloskar, Mysore Silk's Embedded system and AnubhoothUdyog, Mysore.
ASSOCIATION ACTIVITY
VEGA organized a project presentation of 2012 – 16 batch students for junior students. Followed by project presentation a quiz competition was held. Mr.Adarsh Krishna and Ms.Risha C T of S4 CSE were got 1st prize.
Prizes were awarded for 100% attendance, toppers in each semesters, two best main projects and mini projects and for best seminar.
5 day GATE coaching were organized form 25th June to 21st June. Students from S6 and S4 were attended.
Organized an Industrial interaction with Ms.Anu George for S5 and S7 students on 25th July 2016. After that students underwent for JIT Work flow training and Hacker rank problem solving.
Independence day Quiz competition was conducted on 12th Aug 2016. Nithin George from S5 CSE won 1st Prize.
Two students from each semester of CSE conducted presentation on freedom fighters life as a salute to them.
Conducted an essay writing competition was conducted on 17th Aug 2016. 20 students of CSE were participated.
A coding competition was conducted for all semesters of CSE. 40 students were participated in the event. Winners are Anand S and AkhilSukumaran, Joseph Rex and Nijinsha.
S6 CSE (2014-18) Students completed 5 day add-on course on "PHP" from 19th Jan 2017
S6 CSE (2014-18) Students attended a three hour session on "Raspberry PI" on 27th Feb 2017.
S7(2014-18),S5,and S3 CSE attended an industrial interaction on 05/08/2017. ResoursePerson :Mr.Ajmal Hassan (Instio) and Mr. Vijay(Coolminds Tech.)
FACULTY DEVELOPMENT PROGRAMMES
Ms. Iris Jose, Asst. Professor, CSE Department, attended an FDP on "Programming with PL/SQL" at St.Gits College of Engineering, Kottayam, from 2nd May 2016 to 6th May 2016. The programme was organized by ICT academy of Kerala in association with Oracle Academy.
Asst. Professors Ms. Iris Jose and Ms. KavyaJohny, CSE Department participated in a three day workshop on "Concept Coaching organized by SNGIST in association with ICTAK from 11th May to 13th May.
Asst. Professors Ms. Iris Jose and Ms. KavyaJohny, CSE Department participated in a two day workshop on "Android" organized by Dept. of MCA at SNGIST .
Dept. of CSE organized an FDP on 25th June 2016. Ms. Iris Jose and Mr.Manu K Madhu took classes . All faculty members of CSE were attended the same.
A hands on workshop on "Compiler Design" was taken for faculty members of CSE by Mr. Jyothimon C from 22nd June to 24th June.
Asst. Professors Ms. Iris Jose, Ms.Nikhila T Suresh ansMs.Sumi Joy were participated an FDP at SNGIST on 9th and 10th Sep 2016 on "Effective teaching Methods"
Asst. Professors/HoD(CSE) attended a seminar on "Skill Development for Young Engineers to perform the core sector : Vision 2015" on 19th Sep 2016 conducted by the Institution of Engineers(India).
Ms. Iris Jose attended a two day FDP on "Raspberry PI with Open CV" organized by ECE dept. in association with Pantech Pro. Ed on 22nd and 23rd Dec 2016.
Ms. Christy G and Ms. KavyaJohny attended an FDP on "Free and Open Source Software" at ICT academy, Infopark, Koratty from 23rd Jan to 27th Jan.
Mr.Siju Varghese attended a one day workshop on "Design Project" at SCMS on 21/08/2017.
Mr. Sooraj N R attended a half day session on "Start Ups" on 29/08/2017 at NASSCOM, Infopark, Cochin organized by ICT Academy.
ATTAINMENTS OF STUDENTS
Nandagopal S (2013- 17) Qualified GATE 2017 with score 327 and he is doing M.Tech at MACollage, Kothamangalam with Rs.12000 as stipend.
The following students were participated in ICTAK "Techathlon" and selected for Mega final round which is held on 10th and 11thof Nov– Prakhil T P, Nijinsha P A, Alex Thomas and Annie B Das.
Mr. Vijay K Venugopal, student of S8 CSE done a software for Data Analysis of University Results and is using in the department.
Mr.Sreeharsh of S6 CSE got 2nd Prize in Digital Photography in the Technical fest conducted at FISAT.
The project proposal submitted to "Smart India Hackathon 2017" by Ajmal Hassan and Team is accepted for further development.