Yoga sessions are conducted in the campus regularly coordinated by Mr Kannan P H, Physical Education instructor at SNGIST. Also, training sessions on Meditation and achieving success in Life are also conducted by experts like Mr Sambhu Panicker (Former IIT Mumbai) for the students of SNGIST.
International  Yoga Day Celebration at SNGIST on June 21 st 2016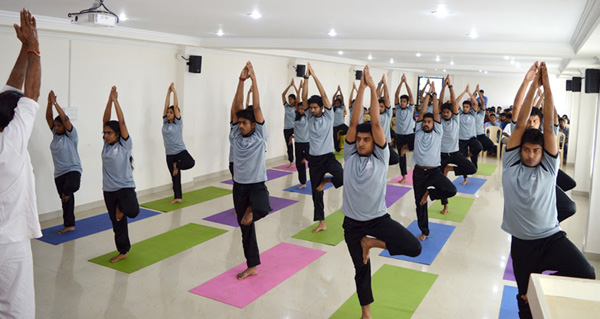 SNGIST team won the Patanjali Yoga Olympiad (DIstrict Level) Competition
SNGIST team has become Winners in the Patanjali Yoga Olympiad (DIstrict Level) Competition that was held on 2nd November 2014 at Vidhyadiraja Vidya Bhavan, Aluva. The competition was organised by Patanjali Yoga training & Research Centre(PYTRC), Elamakkara. Our college team consisting of 4 studnets, three from MBA(Fasal M H, Jibin Johny & T Arun Gopinath) and one from Engineering EEE ( Sojin K A) have participated in the Junior Boys category (15-24 years age) and secured championship. The students had to perform 5 compulsory Asanas and 2 Optional Asanas and 3 rounds Suryanamaskar. About 295 participants were there representing various schools,colleges and clubs. Our Team qualified for the State Yoga Olympiad that will be held at Patankjali Yoga Vaidyapeetam, Elamakkara on November 30th 2014.